The Sridevi-starrer English Vinglish (2012) completed 10 years on October 5 this year. Gauri Shinde's directorial debut boasted a beautiful tale, stupendous performances and touching scenes. While Sridevi was the highlight of the movie, the other actors also did very well, including Navika Kotia. She played the role of Sapna Godbole, the daughter of Shashi (Sridevi) and Satish (Adil Hussain). Interestingly, her real-life brother, Shivansh Kotia, essayed her reel-life brother, Sagar, in the film.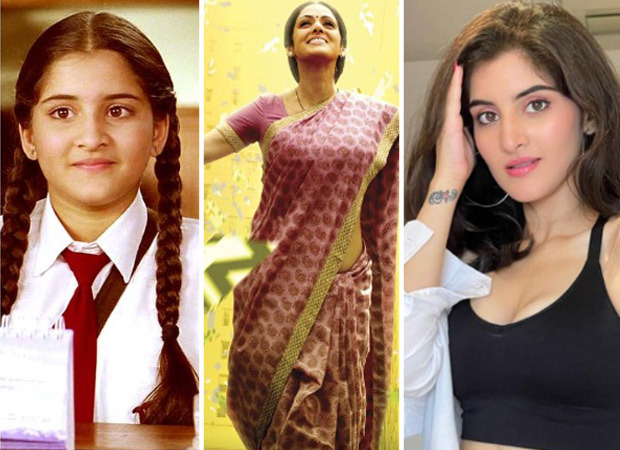 10 Years Of English Vinglish EXCLUSIVE: "When people realize I played Sridevi's daughter in the film, they tell me 'I felt like SLAPPING you'" – Navika Kotia
As English Vinglish completed 10 years, Navika Kotia, 22, exclusively spoke to Bollywood Hungama about her memories of the film and how it was to play the role of the 'villain'! She was recently hospitalized for 10 days after being infected with meningitis. She, however, recovered in time to attend the English Vinglish's 10-year celebrations.
You attended the anniversary celebrations. How was the experience and how was it to reunite with the English Vinglish team?
It was wonderful. They were all surprised to see Shivansh and me because we both have grown up so much! But it was nice to meet them and reminisce about the old memories.
What was your age during the shoot of the film and which class were you in?
When I shot for the film, I was 11 and I was in Class 6. When it was released, I was in class 7 while I was 12. And now, I am 22 (smiles).
How did you bag the role? At the event, we learnt that Shivansh was selected first and then you got a chance…
My brother Shivansh and I both were shooting for different shows at that time. I missed the audition as I was busy with my shoots. But one day, Shivansh packed up early. So, he gave the audition. He was shortlisted and he was called to meet the director. That day I was free and I tagged along. As soon as I entered the office, they asked me whether I act. When I nodded, they asked me to test as well. Luckily, they had not shortlisted anybody for the role of Sapna Godbole. I gave an audition and both of us were cast together. They also liked the fact that they could cast real-life siblings.
Which shows did you act in before English Vinglish?
I started acting when I was 7-8 years old. I did a lot of ads. As for shows, I was a part of Baa Bahoo Aur Baby, Kasamh Se, Saat Phere, etc. I was doing Maryada when I signed English Vinglish. Shivansh, meanwhile, was working in Mrs Tendulkar at that time, for Sab TV.
How many days did you shoot for the film?
We were in New York for 25 days. We shot the house scenes in Mumbai for around 15-20 days. And in Pune, we shot for around a week. So, I guess I shot for around 50 days. The New York schedule was a lot of fun as we were allowed to get one parent with us. So both our parents got a chance to accompany us! We 4 of us had a nice time in New York. It became a vacation and work trip.
Did you know that Sridevi was a big star?
I knew as my mom has always been a huge fan of Sridevi. My mom is a person who doesn't fangirl over any actor or actress. But she always liked Salman Khan and Sridevi. Sridevi wasn't working then. So for my mom to talk about her and continue to be her fan was a big deal for us. She remembered so many of her film songs, dialogues etc by heart. Hence, I definitely knew about her popularity. I doubt Shivansh did as he was too young! But it didn't feel like we were working with a superstar as she was very humble, and very down to earth.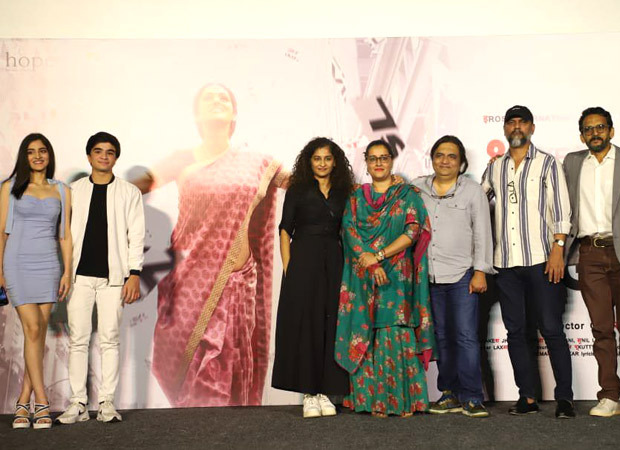 In most of the scenes, you had to shout at her. Did you feel apprehensive doing so since she was such a legendary actress?
It did not feel like that, that I am shouting at a big superstar. She made me feel comfortable and that helped. Moreover, I knew that it was a part of my job. I wanted to shout at Sridevi ma'am nicely so that she gets impressed by me for doing my job (laughs)! Hence, it wasn't awkward. I was, however, a little hesitant to share the screen with her. But we had done workshops before. So the vibe on the set was very nice and the shoot went fine.
I saw the film again and realized that you were the villain in English Vinglish! You probably gave the most pain to Shashi…
(Laughs) Yeah, probably. I get that a lot. Till date, when people realize I played Sridevi's daughter in English Vinglish, they tell me 'I felt like slapping you'! I reply, 'Thanks! Everybody says that to me'! I take it as a compliment because that is what I was supposed to do. I was supposed to trigger people in the film. But in the film, there are parts where I am very sweet to Shashi as well. I am hugging her. I realized that is how most teenage girls are with their parents. When they are angry, they lose it like never before. When they are in a good mood, they do love and respect their parents. It's just that parents feel inferior at times. My character Sapna knows her mother's weaknesses and points that out everytime to win an argument. When her mom is shouting at her for hanging out at a café in the name of studies, she immediately brings up the English literature point in the argument. She knew where to pick her. It seemed like she was rude to her but she was just being a normal brat. A lot of girls are like that.
I guess a lot of people felt like slapping you because they saw themselves in you. Aapne unko aaina dikhaya!
Yes, exactly. I remember Pradeep Sarkar told me that after his daughter watched English Vinglish, she said 'Sorry' to him and his wife! It made me feel that this film will help kids realize where they go wrong. So yes I guess maine unko aaina dikhaya (laughs)!
Were you at the grand event of English Vinglish? What was the response like?
Yes, of course, I was there. I remember interacting with a lot of actors. I remember Shivansh did a dance and showed it to Vidya Balan. He danced to one of her songs. He was a kid and they all enjoyed his performance. A lot of great actors after the film got over came to us and appreciated our work. It was a huge moment. I remember Anil Kapoor and others praised us. So, I remember that day very well.
Did you meet Amitabh Bachchan? He had a cameo in English Vinglish…
We had the privilege of meeting him in Pune. The airport scene was shot there. We were shooting for the part where we drop Shashi at the airport while he shot for his cameo in the same location. Balki sir took us to his vanity van and introduced us to him. We were very nervous. I was never that nervous in my entire life. I froze when I met him. We got to click a picture with him. I still have it framed in my house! We congratulated him as Aaradhya was just born around that time. We spoke to him for 10-15 minutes. He was very sweet and welcoming.
Did you meet Khushi Kapoor and Janhvi Kapoor? What did they have to say about your role in English Vinglish?
At the tenth anniversary event, I asked Khushi if she was like my character. Khushi is also the same age as me and hence, I wanted to know whether she was like Sapna or not. She told me, 'Your character pissed me off'! And on set, we had met as well and she was sweet to me.
And what about Janhvi Kapoor?
I didn't have a one-on-one word with her (after the screening of the film). But we met on the sweet and she was also quite warm.
English Vinglish was a big break. Did you get a lot of offers from Bollywood?
No. I didn't get film offers from Bollywood. I only got the we-want-to-slap-you feedback (laughs)! I did a few South Indian films though. I worked in Attarintiki Daredi (2013), starring Samantha and Pawan Kalyan. That happened because they liked my performance in English Vinglish. Hence, I was happy that I was getting exposure to another industry. What was great was that English Vinglish was released in multiple languages. In the Tamil version, Mr Ajith played the part that was essayed by Mr Amitabh Bachchan in Hindi.
Were you in touch with Sridevi after the release of the film?
Unfortunately, I didn't have the chance to meet her again or have a word with her.
Now that she is no more, watching the film is a different experience. In one scene, she tells you, 'School mein bol do na ki (main) marr gayi'. That scene hits differently now…
Yeah, it does. It was shocking. I have seen it 10 times already but as a kid. I had to watch it with my family members, during the premiere, before the release, during the dubbing etc. But when I was watching it again on the 10th anniversary, I didn't get bored even for a single minute. Kausar Munir and Gauri ma'am sat next to me. I repeatedly remarked, 'She's so beautiful, she's so beautiful. Her eyes are so mesmerizing'. As a kid, you don't notice all of that. As a grown-up girl, I did. I was awestruck by her performance. At the same time, I felt really sad knowing she was no longer with us. It did hit hard.
How did your family members react to your work in English Vinglish?
My mother, even today, is so proud of the fact that both her kids got to work with her favourite actress of all time and that we played her kids in the movie. So is my dad. I remember we had a trial screening of the film, before the premiere. I had taken my entire family, including my grandparents and close relatives. They also got the chance to meet Sridevi ma'am. They were on cloud nine. Even my friends and relatives are proud. Like they'll tell people, 'Have you seen English Vinglish? That girl who played the daughter is my friend'!
At present, you are working in the popular TV show 'Yeh Rishta Kya Kehlata Hai'…
Yes. I am. But then I fell sick and had to be hospitalized. So, they have moved my track. Luckily, I didn't have any pending scenes. They had just finished the competition track.
Is there anything else on your plate? Would you like to do films and web series?
I'd love to do everything as an actor, I want to explore and I don't want to restrict myself to just one medium. In fact, I recently shot for a web series in Indore, titled Pranksters. It also stars Mihir Ahuja and Jay Thakkar. It's a nice series about college kids who play some pranks and how they have to pay a heavy price for it. Other than that, I have just gotten out of my bed and have yet to get back to work (smiles).
Also Read: EXCLUSIVE: "Rakesh Jhunjhunwala had the vision to back a film like English Vinglish at that point in time when many in the industry didn't have the confidence to do so" – R Balki
BOLLYWOOD NEWS – LIVE UPDATES
Catch us for latest Bollywood News, New Bollywood Movies update, Box office collection, New Movies Release , Bollywood News Hindi, Entertainment News, Bollywood Live News Today & upcoming movies 2022 and stay updated with latest hindi movies only on Bollywood Hungama.